Our Book
Here you can see the event for the launch of the book, on 14th December 2012 at the agritourism:
Here you can listen to the interview broadcasted on Radio 1 during the program "Dalla terra alla tavola" on 5th January 2013:
A42564838.mp3 (you can listen to us starting from 20mins 20secs)
If you are interested in knowing more about our history and discovering our recipes we invite you to read our book: "Che ne sai tu di un campo di grano?" (literally: "What do you know about fields of wheat?", the title is a reference to a famous song.)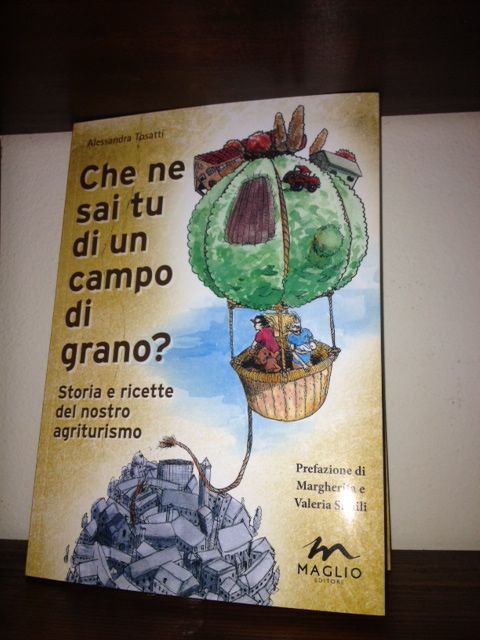 "Where did you leave the keys? OK, I'm going now, I am taking Cirano for his wee, can you make toast for breakfast? Come on, get up, it's late… I like this district, the Bolognina: I like it in the early morning, I like the light that seems to respect my still sleepy eyes. I like seeing the people, still just a few, slowly starting their day. I like watching my enormous dog – an Italian hound, naturally – called 'Il Cirano', just like Alan Ford's dog…"
"The big house, the largest one, where the farmers once lived and home to the horses' posts and stables and barn, it definitely needs refurbishing… It will become the headquarters of our business: The problem is, which business? A home for the elderly, or a nursery for children, or an agritourism… You know, there are already a few agritourisms in the hills around here, and that beautiful one on the road to Modena: they usually have a restaurant, and some have rooms for the night. Let's gather more information. Good idea. So, agritourism it is. We can live as farmers, cultivating the fields and offering rooms to people who want to eat and sleep as they did in the past…"
"… But the renovating just never seems to end, and it's the same thing for the authorisations and papers… Pre-evaluation, Evaluation, Bills of quantities, light shafts, bathroom fixtures, septic tank, kitchen tools, extractor fans, doors, shutters and handles, and then sandblasting the ceiling to amplify out the vaults in the barn, created in the traditional style of Modena, our grandparent's city.
Days. Months. Years. Gathering and treating vegetables. Running to turn off the irrigation system, get the keys, car, bags and folders.
Delivery of the invoices to the Association, where Teresa is waiting to greet me – the wife of Andrea, director of the Organisation and school friend of mine…"
"… Every Monday we end up drunk. Drunk on sleep, on tiredness. On anxieties that leave the body stiff. Like a boxing match – puffy eyes and heavy legs. That's the way it is, because on Saturdays and Sundays we just never stop. In the weekend we often get help from some of our long-time friends, who…"